There is absolutely nothing bad in cleaning your window just like the professional cleaners do and get the exact same result. We will share a quick window cleaning tips here that we also use as a professional cleaning company. We are sure you will be proud by the time you try them out after reading this informative piece.
A bucket of water and soap is not enough to do the job and leave your window smudge-free, but the tips that make the professional better than you are "below your mouse!"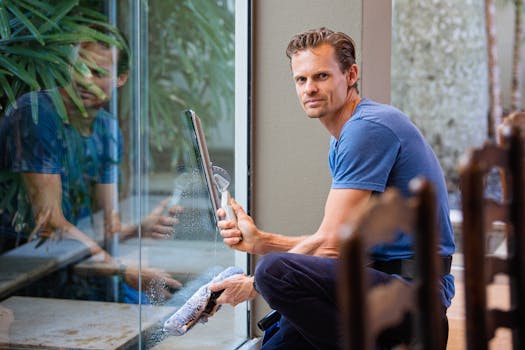 No harsh chemicals needed
Achieving a streak-free window is not about how harsh the chemicals you used are….but about how well you clean. Even professional cleaners don't rely on chemicalized cleaners for the safety of the homeowners and the environment. Chemical agents react with the windows coupled with the sunlight and temperature, you never can tell what unfriendly results you can get- it's a chain reaction!
Get used to an affordable washing liquid
Getting a sparkling clean window is realizable with a cheap washing soap. Both you and your environment are not at any risk, you just need to make available, a bucket of warm water and mix the washing liquid for a "wow" result.
Use the right tool
Part of what makes us professional cleaners is simply that, we make use of the right tool. To get a wonderful looking window, you need to apply the right tool.
Get the right tool to put the water where you need it on the window- We use a T-bar synthetic washer! You can get these at a nearby store.
Get a squeegee to remove the water- we use a T-bar quality squeegee with a rubber blade slot at the top.
Get a scrim to remove the water. A scrim is what we use for wiping the window surface; this will help you a lot and serve you for quite a while. We want you to do it the Nike way- "Just do it."
Reach out to us via the comment box below, we would love to hear from you, let's also learn from your experience after you've tried the tips on your window.